Grain Free Dog Treats




You may not realize this but making your own grain free dog treats is quite simple. More dog owners are finding out that their dogs are sensitive or even allergic to grains.
Then they start the labored hunt to find a product out in the store, online, etc.
But, why not try your hand at making home made dog treats for your best friend.
And the beauty of this is that you are taking control of your dog's health by knowing exactly what is going into those treats, healthy and safe.
And many ingredients are right in your own cupboard and some you may need to purchase, none the less, making safe, healthy even organic dog treats is a snap!
It's really funny, but somehow when my dogs get a whiff of the scrumptious smells coming from the kitchen they somehow know that I'm making something special just for them!
The sillies never leave the kitchen, they just hover around under my feet and stare at me with those big eyes of theirs.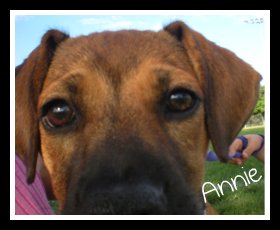 Annie always gets these very serious eyes with big wrinkles on her head as she stares at my every move, just hoping, well actually praying "please let her drop something tasty, PLEASE!" yeah I always drop something, hey there my girls!
In many dogs, just a simple change in their diet, going from store bought food and treats, to homemade dog treats can drastically help their allergies, hot spots, constant itching and even aid in dropping a bit of weight.
And in most cases, this can eliminate the problems all together.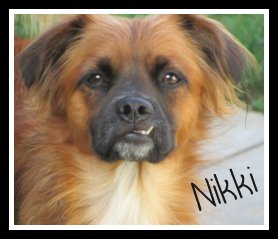 Isn't her tooth cute!
Nikki's skin cleared right up once I put her on a Grain Free Diet.
Did you know that corn is the most common filler used in commercial dog food and that nearly 10% of dog food allergies are corn related?
YUP! Take a look at the very first ingredient listed on the bag or can, typically it's corn meal or corn by products.
Shoot those two ingredients aren't even healthy OR natural, they are the mixture of all the yuck stuff left over and used as fillers they put into dog products. Not so healthy stuff.
These treats are not just for dogs with dog food allergies. Any dog can benefit from these dog treats.
Why not try your hand at making this Grain Free Dog Treat Recipe.

Watch out though, your dog just might woof all of them down before you know it!


Not worried about using grains? Try this one:

Chicken Flavored Dog Treat Recipe: Savory Chicken & Sweet Potato

Return From Grain Free Dog Treats To Home Page