Dogs In Costume
Do You Have A Great Picture?

Dogs in costumes are so stinkin' cute aren't they!
I don't know about you, but I just can't get enough pictures of them!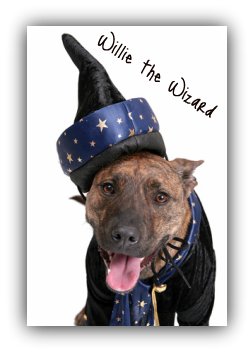 It doesn't matter whether they're pictures of adorable little Chihuahuas dressed up as a Bride and Groom or a Vizsla dressed up as Lady Gaga
(ya I saw that but didn't have a camera with me darn it)

I Love Them All !!
I haven't seen a puppy dog yet that isn't photogenic.

So, why not create a web page about YOUR dog, share pictures of him dressed up in a costume, what type of breed he is, tell us what makes your dog so special...maybe you have a funny story about something silly he does or special training he has.



Share your story and pictures with other dog lovers right here on my site.

It's super simple to do and only takes a couple of minutes.
Trust me, it's totally easy! I can even do it and I'm not so techy.
---
Return to Halloween from Dogs In Costume

How Cute Are Your Dogs In
Halloween Costumes?

Ohhh C'mon - You know you wanna brag, right? I'll even bet you have at least one totally cute picture you can share, well maybe two. . .

So what are you waiting for?

Start filling in the box just below!
Check out these Dogs In Halloween Costumes

Just click on a link below and check out other Dogs In Halloween Costumes.  They were all uploaded by other visitors on this page. 

Now let's see a picture of your furbaby!


Miss Annie and Her Antlers

Annie is one of three rescues we have. She is a boxer/beagle mix and is truly a love bug. When I put the antlers on her she just froze! It was so funny, …
Bailey the Witch

Bailey is our 5 year old Golden Retriever that we are fostering for the Southern California Golden Retriever Rescue. She is a permanent foster due to …
---