Frozen Pumpkin Ice Cream
For Dogs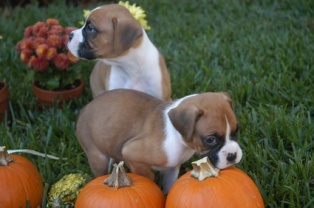 We found that this frozen pumpkin dog ice cream has become quite the favorite with our pups not only during the fall but all year long!
A friend gave me this recipe a long time ago and we have used it ever since.
Most people only think about using pumpkin during Thanksgiving and because it's typically in season. However, you can find canned pumpkin puree at most of the major grocery stores all the time.
Here in Southern California the weather can still be fairly warm during the Thanksgiving season, so our pups love to indulge in this Frozen Pumpkin Ice Cream treat.

Yeah, you caught me. . I make the dogs their pumpkin dog treat at the same time I'm making all my homemade pumpkin pies for our Thanksgiving feast.
I'm such a Puppy Pushover! :D

Ingredients:
1 tsp pumpkin pie spice
1 cup milk, low or fat free
1 (1.5 oz) Sugar Free Instant Vanilla Pudding Mix
1 (15 oz) can pumpkin puree (not pumpkin pie filling)
Instructions:
Whisk the vanilla pudding mix, pumpkin pie spice, and milk all together until completely dissolved. Approx. 2 minutes.
Fold, in the pumpkin puree to the above mixture.
Scoop pumpkin pudding into small paper cups or plastic Popsicle molds.
Place your pumpkin mixture into the freezer and let freeze completely for about 3 hours.
Once frozen remove the Pumpkin Ice Cream from the freezer and let stand on counter for about 5 minutes for easy removal. Then release from the cups or mold and serve.
You can store your frozen pumpkin Ice Cream for up to 3 months in the freezer or for 1 week in the refrigerator.
Great Dog Treat Toy Filler
I also use this pumpkin ice cream to stuff our dogs Kong Toys. And I usually stuff some of their kibble right along with the ice cream into their toys. They sooo love it! They wait so patiently for their pumpkin ice cream treats!
LOL Annie's butt and tail moves so fast back and forth on the floor because she wants the treat so bad but knows she must stay sitting to get it! Too funny I tell ya...I Love Dogs!


. . . Your Dog Is Waiting For You!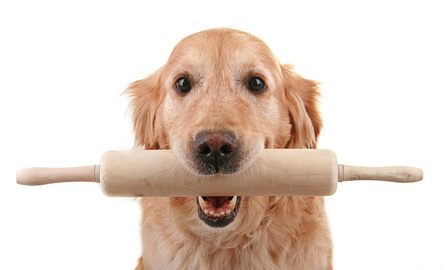 Back To Frozen Dog Treats
Return From Frozen Pumpkin To Homepage