Frosty Paws
Dog Treats
Treat your puppy dog to homemade Frosty Paws Dog Treats that are loaded with nutritious, creamy ingredients!
Yogurt is known for being a remedy to ease upset stomachs too. AND the best part is they aren't filled with tons of preservatives and additives.
Milk is too high in Lactose, but yogurt is well tolerated by most puppy dogs. It's filled with live cultures and probiotics that are perfect for your puppy dogs' digestive system.
Did you know that probiotics enhance the levels of beneficial bacteria in your puppy dogs' stomach? Yup :)

When it's hot outside your puppy will drool over his very own Frosty Paws Dog Ice Cream packed with yummy peanut butter and fruits. 
What you will need:

Ingredients:

32-ounce container of Vanilla Yogurt (low or non-fat)
1 Ripe Banana
2 Tablespoons Peanut Butter (natural - sugar free if possible)
2 Tablespoons Honey

Directions:

I throw all the ingredients into a blender and blend up smooth. Fill muffin pans to about ½" deep or use ice cube trays filled the same depth and freeze. Once completely frozen, remove from pans and put into a freezer bag for easy storage and access.

Variations:

I love taking the recipe and changing it up a bit by using flavored yogurt such as blueberry or strawberry/banana.  Then I just add in 1 cup of chopped fresh blueberries or strawberries.
My taste testers, Annie, Nikki and Cooper haven't rejected these Frosty Paw dog treats yet!

Side Note: When using ice cube trays, it's very important to make sure your puppy dog doesn't just swallow them because they could choke. Use common sense and use the correct size for your puppy.

Ready for another frosty treat? How about Easy Frozen Doggie Bites
 . . . . Your Dog Is Waiting For You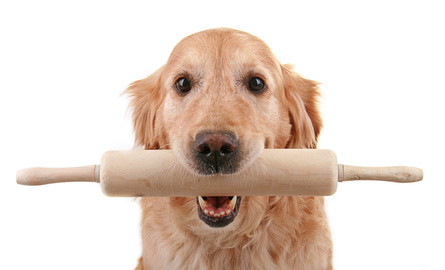 Return From Frosty Paws Dog Treats to Homepage