Puppy Dog Blog
Hey thanks for visiting my Puppy Training Blog. This is kinda like a mini version about puppy training and making all those yummy Homemade Dog Treats.
It will also let you know when I add new pages on love-my-puppy-dog website, tasty new dog treat recipes or fun new adventures in the puppy world.
Oh and give you up-to-date information on anything that has to do with puppy dogs and upcoming events...stay tuned
Make sure to click on that Orange Button to subscribe to my RSS feed so you don't miss anything!
Dehydrated Chicken Dog Treats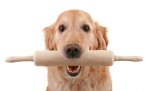 Recipe: Dehydrated Chicken Dog Treats. Very simple, healthy and cost effective is what makes these treats perfect.